Friends : Members
[Picture in the upper banner: "Prophets" by John Singer Sargent (1856-1925) at the Boston Public Library]
"When you reach this night,
your eighty-fourth birthday will have been yesterday.
Today is August 25, 1983."
...
"I have nothing left," he said suddenly.
"I can die any day now. I can fade into that which I don't know
and yet keep on dreaming of the double.
That hackneyed theme given to me by Stevenson and mirrors!"
J L Borges in "25 August 1983"
"My friends came to visit me; I was astonished that they didn't notice I was in hell."
J L Borges wrote in "The Memory of Shakespeare", 1982
This is a space to share with other Members, to share on dialogue, on discussion of ideas, on texts, on investigation, etc...
Or you can become a Member by subscribing to Membership here on line:

By purchasing a Membership you adhere to the Society's ethical rules, taking an oath of loyalty to the aims exposed in these web pages.

Please notice that to complete your registration as Member, you will have to inform the Society of your full name, profession, as well as your up to date address and a contact telephone number and email box.

Among other benefits, such as unpublished documents, articles, essays, etc available at the Members' Reading Room, Library and Archives, you will be granted on request up to two free tickets to all events and personal invitations to affiliate events, etc.

Adult Membership £ 50 (current year)
You will receive an email confirming your payment; please print a copy of that email as a proof of subscription.

Membership, concession £ 30 (Students, pensioners, unemployed; current year)
To celebrate the 107th anniversary of Jorge Luis Borges (born the 24th August 1899) and the 92nd anniversary of his lifelong companion Adolfito Bioy Casares (born the 15th September 1914) we offer to all visitors a three unpublished tributes by members of our Society:
(if you do not read Spanish please use on line translators to help reading or visit us in a few days for their translations in English and in French)
Tributes pronounced the 24th August 2001
Discourses pronounced at Can Mossenya (Majorca) for the public opening of the 1st Congress of The Worldwide Society of Friends of Jorge Luis Borges :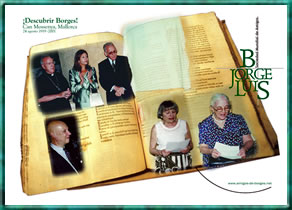 Clockwise: Prof. Jean Pierre Bernès, editor of Borges works in La Pléiade; Fr. Bartomeu Vicens Fiol, chapelain of HM King Juan Carlos of Spain; Mrs. Maria Antonia Munar, president of Majorca Council; Dr. Eduardo García de Enterría, member of the Spanish Royal Academy and author of "Fervour of Borges"; Mrs María Esther Vázquez, a friend of Borges and Bioy Casares, journalist and author of a award winning biography on Borges; Dr. Alicia Jurado, writer, a friend of Borges and a member of the Argentinean Academy of Letters. Dr. Jurado has cooperated with Borges in the book "What is Bouddhism?", she is also author of an excellent biography called "Borges".

To read the texts click on the red titles :

The Borges I knew (El Borges que yo conocí)
by Alicia Jurado
Available in Spanish, English and French for Members in the Reading Room

Memories of Borges (Recuerdos de Borges)
by María Esther Vázquez
Available in Spanish and also in English and in French for Members in the Reading Room

Our fervour of Borges (Nuestro fervor de Borges)
by Eduardo García de Enterría
Available in Spanish and also in English and in French for Members in the Reading Room

My version of Borges (Versión de Borges)
by Betina Edelberg
Available in Spanish, English and French for Members in the Reading Room

I want to recall Borges (Quiero recordar a Borges)
a poem by Betina Edelberg
Available in Spanish, English and French as well as in audio for Members in the Reading Room
Extraordinary Lectures
Gala Harold Bloom on Borges at Majorca, Spain
The genius of Borges
and Joan Perucho
by Harold Bloom
Foreword by Prof. Perfecto Cuadrado Fernández, Dean of the Universitiy of Balearic Islands (Spain)
available for Members in English (text and audio) and in Spanish and French at the Reading Room



Henri ATLAN at the Palais des Beaux Arts, Paris, France
The library as a biological metaphor
Foreword by Dr. Bernard Dupuy, director of the Centre Istina for theological and ecumenical studies
available for Members in French (text and audio) and in English and Spanish at the Reading Room
Discourses pronounced the 31st August 2003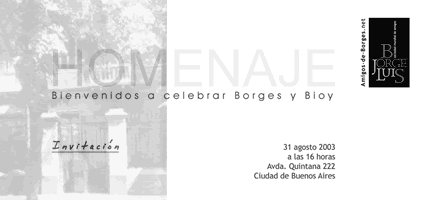 A congress of The Friends of Jorge Luis Borges Worldwide Society at the French Club of Buenos Aires after inaugurating a commemorative plaque in Ave. Quintana 222 and another one in Ave. Quintana 263, two addresses in La Recoleta neighborhood where Borges and his long life companion Adolfo Bioy Casares created Bustos Domeq, in celebration of their "English friendship" :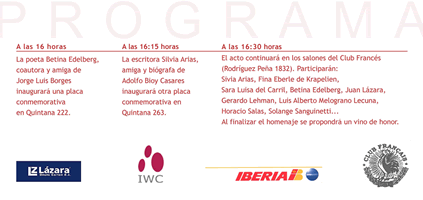 To read the texts click over the red titles :

Tribute to Borges
by Betina Edelberg, poet
coordinator of this Congress
available also in English and in French for Members at the Reading Room

Adress to the Congress by Fabián Bioy Casares
available also in English and in French for Members at the Reading Room

In praise of Friendship
(and its literary creatures)
by Luis Alberto Lecuna, medical doctor, teacher and writer
available also in English and in French for Members at the Reading Room