[Photo above, from left: Jovita Iglesias [assistant to Adolfo Bioy Casares and to Silvina Ocampo], Jerónimo Grondona, Lic. Juan Antonio Lázara [biographer and publisher], Silvia Renée Arias [journalist], interviewed in Argentina Radio on behalf of The Worldwide Society of Friends of Jorge Luis Borges following the Award of the Academy Vocation Prize in The International Book Fair of Buenos Aires 2003]
2023
Christopher Marlowe's memorial garden of Olive Tree, lavenders and jasmines offered by the Friends of Sir Jorge Luis Borges worldwide Society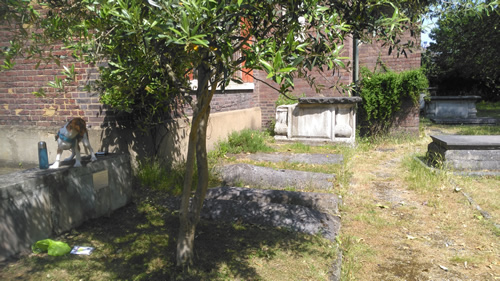 Offered by CKCS Argos,

as they are starting their 16 years of life:
23 April 2023; photo by CKCS Georgie]


The engraved memorial plaque reads:

...And in his sportful hands an olive-tree...

Olive trees have been symbol of Friendship and Peace,
crowns for Poets and Olympians, an allegory of Jesus in the Bible…

This olive tree, lavenders and red jasmine were gardened in honour
of dramatist & poet Christopher Marlowe
-contemporary of immortals Shakespeare and Cervantes-
whose young body rest in this churchyard.

Gifts by CavalierArgos.org on behalf of
The Friends of Sir J L Borges Worldwide Society.
St George's Day 2008
A cancer got rid of the false widow Kodama, a dictator who bought a false certificate of marriage as alibi to misuse the Works of J L Borges for her own mitomanic culte
On Sunday the 26th March Miss Kodama died. She chose her corpse to rest in the same cementery where neo-Nazi dictator Videla was buried. She brought an old blind Borges to the infamous handshakes with dictator Pinochet and later with Videla. When finally Borges became aware of the horrendous crimes of both dictators (thanks to a friend of his Mother whose son was disappeared by Videla) he denounced the dictatorships...

Read the article by Janet Manley in LitHub.com

And our observation:

It is characteristic of a country with such entrenched institutional corruption and widespread poverty as Argentina that a picara - who took advantage of a vulnerable blind old man to exclusively appropriate his rights with the alibi of a false marriage at the time of death -, be celebrated as a smart woman. It also occurs in Hispania; and beyond with so many fans of Borges who never read a line of his brief Works.

The writer and jurist Eduardo García de Enterría knew well Kodama and judged her a bad person. He was right. If such a Miss Emma Zunz had been an honest person, she would have helped Borges to register a foundation to care for his Works after his passing -directed by Adolfo Bioy Casares, the intimate friend of Georgie's whole life who knew her work best; instead of pushing Borges to his death (as Héctor Bianciotti said of her) to later misuse Borges' money by persecuting readers who did not pay tribute to the mythomaniac cult of Miss Kodama.

In autumn 1986 the Bibliothèque Nationale de France, the Center Pompidou, writers from France and Mexico celebrated J L Borges for 3 months: 'Mois, Borges', the only talk in this vast program would be given by Borges himself. The organizers and Gallimard publishing house where the writer Bianciotti directed the edition of La Pléiade of Borges' Works, did not invite the false widow Kodama to give the talk that premature death prevented Borges from giving, because she did not know his works. The honor of giving Borges talk fell to me, because Bianciotti and the other writers organizing 'Mois, Borges' knew that I am one of the 'twelve readers' of Borges. The false widow was in the auditorium of the Pompidou Center, and from that afternoon of love she hated me like Emma Zunz hated her father.

Dr Miguel-Angel Meizoso
FriendsofBorges.org

Post-script:


Miss Kodama bought a false certicate of marriage to the dying Borges from a Paraguayan "judge" of a remote military barrack to use as alibi to claim Borges's estate in Argentina, a country where institutional corruption is rife. She won though in both countries her marriage was illegal.
It is revealing that Kodama chose to be buried in the same cemetery where dictator Videla was buried: she took Borges to the infamous handshake with the fascist dictator hidding from Borges the crimes against humanity. When finally Borges -thanks to a friend of his Mother who had a son kidnapped by Videla- found out about the horrendous crimes, he denounced the dictatorships.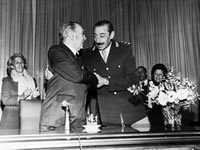 In 1976 Miss Kodama also brought Borges to checkhands with fascist dictator Pinochet, which caused Borges not to be awarded the Nobel Prize for Literature.
Argentinian journalist and politicians, like Elisa Carrió, displayed proud ignorance in tributes to the false widow : it is clear that Carrió does not know Borges's work - the intellectual poverty of her vocabulary is contrary to Borges' reading -, neither does Carrió know the works of philosopher and Hellenist Michel Foucault who never wrote a genealogy as she claims. Let's not forget that Carrió advocated the release of the neo-Nazi leaders of the last military dictatorship in Argentina (as the corrupt Menem -another mate of Kodama- did earlier). Two ambitious picaras made for each other.
Borges affirmed that Peronists are incorrigible, unfortunately his observation extends to all Argentines, with very few exceptions that confirm the rule. We also learnt that Miss Kodama before her death has praised dictator Rosas, whom Borges detested as much as to Mussolini's disciple: Perón.


London, March 29, 2023
2017
The immortal Harold Bloom, the greatest literary critic on the planet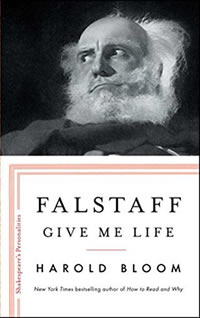 Andy Martin meets his hero, legendary literary critic Harold Bloom, now in his ninth decade and teaching by Skype, who not only rejects 'the death of the author' but wants to bring them back to life – and still maintains that Shakespeare invented the human.

... Towards the end of The Shadow of a Great Rock, in analysing the Book of Revelation, he writes that "When I was a young literary scholar, I remember being fascinated by the genre of apocalypse. I turned 80 just two days ago and find I now have a certain distaste for apocalyptic literature." A few years later, he is still capable of sounding a certain apocalyptic note. "After a lifetime spent in one of our major universities, I have very little confidence that literary education will survive its current malaise." But the campus only reflects a wider society: "The universe increasingly has a common technology and in time may constitute one vast computer, but that will not quite be a culture."

... read the full article in The Independent

Read the new book by Harold Bloom : 'Falstaff: Give Me Life'
Patron of Friends of Jorge Luis Borges worldwide Society, a Nobel laureate, Poet and Playwright Sir Derek Walcott dead, aged 87
Walcott, who died in Saint Lucia, was famous for his monumental body of work that wove in Caribbean history, particularly his epic Omeros.

The poet and playwright Derek Walcott, who moulded the language and forms of the western canon to his own purposes for more than half a century, has died aged 87.

His monumental poetry, such as his 1990 epic Omeros, a Caribbean reimagining of The Odyssey, secured him an international reputation which gained him the Nobel prize in 1992. Walcott also had an accomplished theatrical career, being the writer and director of more than 80 plays that often explored the problems of Caribbean identity against the backdrop of racial and political strife.

The former poet laureate Andrew Motion paid tribute to "a wise and generous and brilliant man". "As a member of the great Nobel-winning poetic generation that included Brodsky and Heaney, he did as much or more than anyone to win the global respect for Caribbean writing that it deserves and now enjoys," Motion said. "The rich sensualities of his writing are deeply evocative and also definitive, and its extraordinary historical and literary reach – in his long Homeric poem Omeros especially – gives everything in the present of his work the largest possible resonance. He will be remembered as a laureate of his particular world, who was also a laureate of the world in general."

... more in The Guardian - BBC - Trinidad Guardian
100 years after Balfour's Declaration, Bansky opens The Walled Off Hotel in Bethlehem


Read also:
Theresa May wants British people to feel 'pride' in the Balfour Declaration. What exactly is there to be proud of?: Balfour initiated a policy of British support for Israel which continues to this very day, to the detriment of the occupied Palestinians of the West Bank and the five million Palestinian refugees living largely in warrens of poverty around the Middle East, including Israeli-besieged Gaza. Surely we should apologise...

... read the full article by Robert Fisk in The Independent

Banksy Opens West Bank Hotel Promising 'The Worst View In The World' ... [+]
2016
William Shakespeare is 452 years young!
Join the Celebrations in the World's stage

Short films of Shakespeare's plays to be shown in London, Liverpool and around the world...
The films will play for free at 37 locations along the banks of the Thames between Tower Bridge and Westminster on 23 and 24 April.
The shorts include footage shot in the real locations of the plays and viewers will see West as Coriolanus at Ostia Antica, the harbour city of ancient Rome; Jonathan Pryce as Shylock in the Merchant of Venice at Banco Rosso in the Jewish ghetto of Venice and David Harewood as Othello in Famagusta in north Cyprus.
The project, entitled The Complete Walk, also filmed at the Red Pyramid in Egypt for Antony and Cleopatra, the Tomba di Giulietta in Verona for Romeo and Juliet, Glamis Castle in Scotland for Macbeth and the Acropolis in Greece for Timon of Athens.
...Each 10-minute film will also include footage of the BFI's Silent Shakespeare films and newly created animation.

...more information: Royal Shakespeare Company - Shakespeare's Globe - BBC - The Guardian - The Independent - The New York Times - The Telegraph - British Film Institute - The British Library

Read also:
William Shakespeare's handwritten plea for refugees to go online: Sir Thomas More script is only surviving copy of a play in the bard's hand and is one of 300 texts being digitised in run-up to British Library exhibition ... The Guardian - The Telegraph

Pourquoi Cervantes et Shakespeare ne sont pas vraiment morts le même jour ... [+]

Cervantès et Shakespeare, morts le 23 avril 1616 à dix jours d'écart ... [+]

... more in The Guardian - BBC - The Independent - Evening Standard - Financial Times
Read also:
Herzog and De Meuron: Tate Moderns architects on their radical new extension ... [+]
2015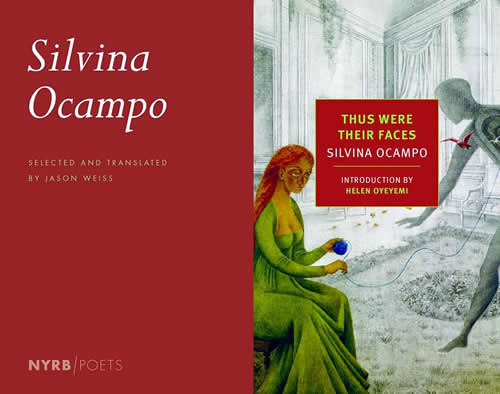 'Thus Were Their Faces: Selected Stories'
Silvina Ocampo, introduction by Helen Oyeyemi, a new translation from the Spanish by Daniel Balderston, preface by Jorge Luis Borges

Though largely unknown to English language readers, author Silvina Ocampo (1903–1993) is a legend of Argentine letters. Jorge Luis Borges said "her stories have no equal in our literature." Now NYRB Classics brings an original collection of stories (Thus Were Their Faces) and a book of poetry (Silvina Ocampo) to English readers. Join Ocampo translators Daniel Balderston and Jason Weiss for a lively discussion of Ocampos work, moderated by translators Yvette Siegert and Esther Allen.

... read full articles in the New York Books, clicking here
2014
'Georgie & Elsa' The Untold Story of Jorge Luis Borges and His Wife'
by Norman Thomas Di Giovanni
"A biography of Borges, by his translator.
Jorge Luis Borges, known as Georgie to his friends, married Elsa Astete Millán in 1967. Borges was sixty-eight years old at the time of the wedding; Elsa, a widow, with a son in his twenties, was eleven years younger.
It proved to be a tempestuous and eventful marriage that would leave an indelible mark on the remainder of Borges' life, but their relationship has been largely glossed over by previous biographers. This is because the one person who knew all the details has refused to speak about it. Until now.
Norman Thomas di Giovanni worked with Borges in Cambridge, Massachusetts, and in Buenos Aires from late 1967 to 1972 and thereafter sporadically until Borges's death in 1986. During their first period together di Giovanni spent more time with the couple than did almost anyone else. He was privy to the private side of their relationship and to its sudden decline. It was di Giovanni who helped the demoralized Borges by organizing and arranging his divorce and at the same time rescuing his library and smuggling him out of Buenos Aires to avoid the wrath of Elsa and her lawyers.
The book is based on the author's extensive collection of original material in the form of diaries, notebooks, letters, manuscripts, and photographs, most of which has never before been seen. It provides a unique insight into one of the few true geniuses of literature..."
Borges did not have sexual relation with any woman and was terrified by Elsa's tyranny... Borges beg his beloved young master Adolfito Bioy Casares, and their friend the philosopher and film maker Hugo Santiago, and his friend and translator Prof. Di Giovanni to free him from the sadic tyranny of Elsa Astete.

The roman familiar of the neurotic repeating its unconscious pattern -the Mother of Georgie was authoritarian, very domineering on her unique boy making of him the easy target of similar sadistic females (as indicated in autobiographic stories of the author) -, a decade later Borges would have to beg for help to free himself from the false widow Kodama... but none of his old friends around to help

Read more:
Jorge Luis Borges and his 'bitch' ... [The Spectator]

'Georgie & Elsa: Jorge Luis Borges and His Wife, the Untold Story' review in The Washington Post

Mr and Mrs Borges ...[The Times Literary Supplement]
Actor and director Al Pacino has told Andrew Marr of his surprise at the contemporary nature of the play Salomé.

The Hollywood icon has won plaudits for his role as Herod in Salomé, for which he has also made a documentary charting his fascination with Wilde's writing.

Salomé and Wilde Salomé screen in a double bill on 21 September at the BFI Southbank in London, followed by a Q&A with Al Pacino and Jessica Chastain broadcast live to cinemas around the UK...

[more in the BBC]

The best documented article on Mia & Dylan Farrow's sordid allegation against Woody Allen was written by Mr Robert B. Wiede published in The Daily Beast. I congratulate the author for this excellent work of journalism which is an indispensable reading to formulate an informed opinion on this affair.
Nevertheless, will add the following: The works of an artist are driven by Eros and the unconscious desire. I know very well Woody Allen's works, each and all his works reflect Allen's mind and sexual interests. Nothing in Allen's works suggests the slightest sexual attraction for children; like nothing in Borges' works supports any sexual desire for women -the masochism in Borges' life, well reflected in his works, or his childish idolatry for her overruling Mother, are symptoms of repressed desire for men, the good-looking ones (guapos); as it was the beautiful Adolfito, his young master whom Georgie loved so dearly all his life. Borges' mother was a fundamentalist catholic – very much like Arthur Rimbaud's mother- who would prefer his unique son rather death than a healthy homosexual.

I read Dylan's letter published in the New York Times [by her friend blogger Nicholas Kristof], I followed the rupture between Farrow and Allen, then the judicial case in 1993... I have to agree with Dr. John M. Leventhal -who headed the Connecticut investigation into Mia Farrow's malicious allegation that Woody Allen molested their then 7-year-old daughter, Dylan: "...it was very striking that each time Dylan spoke of the abuse, she coupled it with "one, her father's relationship with Soon-Yi, and two, the fact that it was her poor mother, her poor mother," who had lost a career in Mr. Allen's films.
Dr Leventhal also said "it was possible that Ms Farrow encouraged her child to fabricate simply by videotaping her telling the story, because Dylan liked to perform."

As an expert in psychology, I outline that the recent letter of Dylan Farrow and Mia Farrow obstinate campaign against Woody Allen had both the signature of hysteria. To understand this pathology made of hate and simulation, I recommend to read "Emma Zunz" the insightful analysis by Jorge Luis Borges on a real "perfect crime" committed by a young hysteric to vindicate her mother's hate against her father. Miss Zunz's pretext to kill her substitute father (after letting died her own in collusion with the malicious criminal allegation against him) was, like in the present case, that "he wanted to sexually abuse her"... a true fabrication of her unconscious mind -echoing her mother's allegation against Emma's father- that everybody -including the police- believed at first sight. ["Then she (Emma) picked up the telephone and repeated what she would repeat so many times again, with these and with other words: Something incredible has happened ... Mr. Loewenthal had me come over on the pretext of the strike ... He abused me, I killed him ...
Actually, the story was incredible, but it impressed everyone because substantially it was true. True was Emma Zunz's tone, true was her shame, true was her hate. True also was the outrage she had suffered: only the circumstances were false, the time, and one or two names."]

No doubt Mrs. Dylan is still a victim, but of her childish alienation to her adopted mother's hate for Woody Allen. Psychoanalysis could free her, as Art and fatherhood helped her brother Moses to find the truth and set him free.

A similar hysteric pathology drives the hateful mythomania of the false widow Kodama, her criminal conspiracy against Borges (she bought her false certificate of marriage in extremis to a personal representative of dictator Stroessner), her crusade against his friends and readers.

Sincerely,
Dr. Meizoso
[London, 1st February 2014]

Woody Allen Speaks Out ... [+]


Read also:

Nanny Casts Doubt on Farrow Charges : Custody: She tells Allen's lawyers the actress pressured her to support molestation accusations against him. She says others have reservations... [+]

Doctor Cites Inconsistencies In Dylan Farrow's Statements ... [+]

Woody Allen's Lawyer: Mia Farrow Made Dylan Farrow Her "Pawn," "Implanted" Memories ... [+]

Panel Criticizes Prosecutor In Inquiry on Woody Allen... [+]

Mia Farrow Testifies That Child Daughter Accused Allen of Molestation ...(to please her) ... [+]

Mia Farrow's Brother Sentenced for Child Sex Abuse; John Charles Villiers-Farrow sentenced to 10 years in prison... [+]

Mia Farrow Defends Polanski ... [+]

Woody Allen, ahora odiado en Oviedo por una banda de ignorantes fanáticos, incluído miembros del IRA, que envuelven su estatua en una bolsa de basura y piden retirarla ... [+]

Dylan Farrow's Brother Moses Defends Their Father Woody Allen ... [+]

Alfred Hitchcock's unseen Holocaust documentary

The British Army Film Unit cameramen who shot the liberation of Bergen-Belsen concentration camp in 1945 used to joke about the reaction of Alfred Hitchcock to the horrific footage they filmed. When Hitchcock first saw the footage, the legendary British director was reportedly so traumatised that he stayed away from Pinewood Studios for a week. Hitchcock may have been the king of horror movies but he was utterly appalled by "the real thing". ... [+]
2013
'Swedenborg is the first explorer of the other world. An explorer we should take seriously'
Sir Jorge Luis Borges
A brief biography on Emanuel Swedenborg


Read also:
Un ensayo por Borges acerca de Swedenborg... [+]

'Swedenborg y Borges, del místico del Norte al místico in puribus' de Emilio R. Báez Rivera

´Borges y el misterio de Swedenborg'
Un Entravista de Christian Wildner con Borges Sobre Swedenborg ... [+]

Did Freud Accept Or Reject Mysticism? by R. Waxman

Freud and the Kabbalah
The English pronunciation during the life of William Shakespeare
2012
Celebrating cinema's Master of Suspense.
The BFI presents a major celebration of the most influential and iconic British film director of all time.

One of the world's greatest directors, Alfred Hitchcock excelled in a variety of genres during his early British career, before moving to Hollywood in 1939. It was here he became known as the 'Master of Suspense', producing some of the most analysed works in the history of cinema. With Vertigo in contention for the top spot in Sight & Sound's Greatest Films Poll, and the BFI's restoration of his surviving silent films, Hitchcock's remarkable body of work remains as relevant as ever... [+]
Aung San Suu Kyi's Nobel Peace Prize speech
"Borges and the Other"
a new opera by composer Matthew Welch
Friday 11th May 2012, at 8pm
at ROULETTE

HM the Queen welcomes the Cutty Sark rebirth in the Royal Borough of Greenwich
Opening: Wednesday the 25th April
Was gesagt werden muss
Das Gedicht von Günter Grass
Warum schweige ich, verschweige zu lange,
was offensichtlich ist und in Planspielen
geübt wurde, an deren Ende als Überlebende
wir allenfalls Fußnoten sind.

Es ist das behauptete Recht auf den Erstschlag,
der das von einem Maulhelden unterjochte
und zum organisierten Jubel gelenkte
iranische Volk auslöschen könnte, weil in dessen Machtbereich der Bau
einer Atombombe vermutet wird.

Doch warum untersage ich mir,
jenes andere Land beim Namen zu nennen,
in dem seit Jahren - wenn auch geheimgehalten -
ein wachsend nukleares Potential verfügbar
aber außer Kontrolle, weil keiner Prüfung
zugänglich ist?

...read the complete text in Süddeutsche Zeitung - El Pais -

More information El Mundo - The New York Times - Haaretz - AlJazeera - The Telegraph - Die Spiegel - The Jerusalem Post - The Guardian
Lux in Arcana
A brief light in the Vatican's Secrets
Open February to September 2012
The Vatican's Secret Archive: selected papal documents go on display in Italy
Includes letter sent by English to Pope Clement VII in 1530 demanding Henry VIII be allowed to divorce Catherine of Aragon...

The Vatican Secret Archives reveals itself http://www.luxinarcana.org
Filmed inside the Vatican Secret Archives, it shows rooms and bunkers in the Archive of the Popes, together with some of the 100 original documents that will leave the Vatican City for the first time in history. 12 centuries of history, 400 years of life, 85 kilometres of shelving: the world's most famous Archive reveals itself in the extraordinary halls of Rome's Capitoline Museums. Conclaves, heresies, popes and emperors. Crusades, excommunications, ciphered letters. Manuscripts, codices, ancient parchments. An exceptional and once-in-a-lifetime chance to learn History through its sources.
...more in The Guardian - El Mundo - Le Figaro - La Repubblica - Reuters - The Telegraph
Read also:
Vatican Secret Archives reveal abdication letter of 'hermaphrodite' Swedish queen: is one of 100 unusual documents from the Vatican Secret Archives which will go on display on Wednesday in an unprecedented exhibition...
SYNOPSIS
The performance of Shakespeare's Julius Caesar comes to an end and the performers are rewarded with rapturous applause. The lights go out; the actors leave the stage and return to their cells. They are all inmates of the Roman maximum security prison Rebibbia. One of them comments: 'Ever since I discovered art this cell has truly become a prison'. Filmmakers Paolo and Vittorio Taviani spent six months following rehearsals for this stage production; their film demonstrates how the universality of Shakespeare's language helps the actors to understand their roles and immerse themselves in the bard's interplay of friendship and betrayal, power, dishonesty and violence. This documentary does not dwell on the crimes these men have committed in their 'real' lives; rather, it draws parallels between this classical drama and the world of today, describes the commitment displayed by all those involved and shows how their personal hopes and fears also flow into the performance. After the premiere the cell doors slam shut behind Caesar, Brutus and the others. These men all feel proud and strangely touched, as if the play has somehow revealed to them the depths of their own personal history.

...more in Berlin Film Festival - The Guardian - BBC - Al Jazeera - France 24
The name "Yourcenar" is an anagram from her original surname Crayencour. (Try shifting the letters round) In 1951 she published "Memoirs of Hadrian" and in 1980 she was elected as the first female member of the Académie française ever! She lived much of her life at Petite Plaisance in Northeast Harbor on Mount Desert Island, Maine. Petite Plaisance is now a museum dedicated to her memory. It is known that Grace Frick was her lover and soulmate but Yourcenar has not (to my knowledge) been specific about this point. But after all she once said that "A writer should leave trace, not proof". Maybe that statement refered to her homosexuality?

MEMORIE DI ADRIANO - Ritratto di una voce

Frammenti dal romanzo di Marguerite Yourcenar
Interpreti: Giorgio Albertazzi, Anita Bartolucci, Gianfranco Barrra, Roberto Gandini, Yordi Godal, Luana Nunzi, Tito Piscitelli, Andreas Rallys, José Sanchez Minobas, David Sant Noell
Interventi Musicali: Maria Carta, Alfio Antico, Domenico Maglionico
Coreografie: Eric Vu An
Regia: Maurizio Scaparro
Registrazione del 1989 nella Villa Adriana, Tivoli

The legendary singer Etta James dies: a voice to sing Life remains
US soul singer Etta James, best known for the tracks At Last and for I'd Rather Go Blind, has died aged 73.
It was announced last year that the singer had been diagnosed with leukaemia and was undergoing treatment.
The star began singing in a group aged 14, before she embarked upon a solo career where she signed to the legendary Chess Records label.
She went on to win six Grammy Awards and was inducted into the Rock and Roll Hall of Fame in 1993.
Legendary producer Jerry Wexler once called her "the greatest of all modern blues singers". Etta James The singer died from complications of leukaemia
James' manager said she died at Riverside Community Hospital in California with her husband and sons at her side.
...more BBC - CNN - The Washington Post - The Telegraph
'At Last' performed by Etta James

2011
Most complete display of Leonardo Da Vinci's rare surviving paintings at the National Gallery, London

The National Gallery's Leonardo exhibition promises a unique chance to view his finest paintings and drawings. It also offers a glimpse of the artist's true spirit.
Renaissance man though he undoubtedly was, Leonardo da Vinci was very much a part-time artist. Among the wrecks and ruins and dubious attributions, Leonardo produced very few paintings – around 20, about some of which scholarly debate continues. There are nine in the National Gallery exhibition, all dated from his years in Milan, as well as Giampietrino's almost 8 metre-wide 1520 scale copy of Leonardo's 1492-8 Last Supper.
What Leonardo paintings are left are in varying states of incompletion, over-restoration and decay. Varnish has browned and grown opaque, paint layers have been scrubbed away, colour (particularly the lapis lazuli blue) has gone out of whack, and restorers and improvers as well as time have done their work.
About a third of the way into the National Gallery's thoughtful, vital Leonardo show is an engraving of a circular pattern at whose empty centre lie the words Leonardi Academia. Perhaps the engraving is the seal of an academy in Milan, where humanists, poets, artists and musicians, supported by the Duke of Milan, Ludovico Sforza, Leonardo's patron, gathered. Or maybe it is an emblem of Leonardo's workshop.
No one knows if he made the engraving himself, but Leonardo undoubtedly drew the design. The engraving is an endlessly turning and criss-crossing knot, a sort of visual knitting whose repeated swirls and flourishes recall Islamic patterns, well known from imports to Italy in the 1400s. The wall label would like us to regard this gorgeous pattern as a precursor of abstract art. It bursts before us and sucks us in. It is a visual labyrinth, an optical game. The severity of the engraving and the pleasure of the pattern are as one.

...more in The Guardian - The Telegraph - BBC - The Independent
And in the website of The National Gallery
Only foolish snobs don't believe in William Shakespeare
What do Shakespeare, Keats and Dickens have in common, apart from being great writers, and masters of the English language? The answer is pretty obvious. None of them went to university: to some extent, all three were self-educated. Ben Jonson said that Shakespeare had "small Latin and less Greek", and likewise I don't think Dickens and Keats, despite the latter's Ode to a Grecian Urn, had much of either.
Who is the odd one out, then? Just as easy? Nobody, I think, has ever suggested Keats didn't write that ode and others, or that Dickens wasn't the author of Bleak House and Great Expectations. But Shakespeare – ah, Shakespeare – there's a whole industry devoted to trying to prove that somebody else wrote his plays. So here we go again, with a movie from Roland Emmerich, director of Godzilla, called Anonymous, opening on Friday. The "Shakespearean thriller" hands the authorship to Edward de Vere, 17th Earl of Oxford, whom the movie, incredibly, has as the love-child and incestuous lover of Queen Elizabeth.
Never mind that Oxford died in 1604, some years before Shakespeare's last plays were written and produced. Such considerations are a mere bagatelle when conspiracies are being revealed. Never mind that nobody at the time attributed the authorship to anyone but the man from Stratford. Evidently, they were all fooled, even Ben Jonson, a fellow playwright who knew William Shakespeare and was not devoid of jealousy.

...read the excellent article by Allan Massie in The Telegraph - The Spectator
The Anatomy of Influence
by Harold Bloom
There is much to admire and infuriate in Harold Bloom's 'final reflections'
What is the most apt image of literary influence? According to Borges we invent our precursors, while TS Eliot had it that great poets are thieves, not imitators. If Harold Bloom is correct – and he's been quite sure of himself for almost 40 years – the placid scene of influence is in reality a brawl, with writers engaged in pugilistic agon against their aesthetic progenitors. The great merit of Bloom's 1973 book The Anxiety of Influence was to have turned a weak critical term – the word itself having declined from its Shakespearean sense of inspiration – into a call to arms. For a time, the unclubbable Bloom ("I am a department of one") was ranked with his Yale colleagues Paul de Man and Geoffrey Hartman as an American critical iconoclast to match those visiting-prof affronters, Barthes and Derrida.
Reading The Anxiety of Influence as a student in the late 80s was a revelation; the seamless begetting of literary tradition suddenly looked like the most rancorous of Freudian family rows. But already (and especially in light of his slightly comical notion of the "strong poet") one suspected Bloom of being, or having become, another sort of critic: ruinously addicted to ex cathedra pronouncements, and a deal less given to actual argument than you'd hope for in a writer whose hobbyhorse was the intricate drama of doubt and persuasion itself. The Anatomy of Influence has some of the strengths and all of the faults of Bloom's subsequent work.

...read the review in The Guardian and watch his interview of Harold Bloom with Paul Holdengräber on the closing day of the PEN World Voices Festival
Lucian Freud, the Artist who recreated painting, enters the Island of the Blessed at 88
Tributes paid to grandson of Sigmund Freud who lived to paint and 'redefined Art'
Lucian Freud, widely acknowledged as one of the greatest, most influential and yet most controversial British painters of his era, has died at his London home.
News of his death, at the age of 88, was released by his New York art dealer, William Acquavella. The realist painter, who was a grandson of the psychoanalyst Sigmund Freud, had watched his works soar in value over recent years and, in 2008, his portrayal of a large, naked woman on a couch – Benefits Supervisor Sleeping – sold at auction for £17m, a record price for the work of a living artist.

Born in Berlin, Freud came to Britain in 1933 with his family when he was 10 years old and developed his passion for drawing. After studying at art school, he had a self-portrait accepted for Horizon magazine and, by the age of 21, his talent had been recognised in a solo show. He returned to Britain after the war years to teach at the Slade School of Art in London.
Over a career that spanned 50 years, Freud became famous for his intense and unsettling nude portraits. A naturalised British subject, he spent most of his working life in London and was frequently seen at the most salubrious bars and restaurants, often in the company of beautiful young women such as Kate Moss, who he once painted. A tweet from the writer Polly Samson last night reported that Freud's regular table in The Wolseley restaurant was laid with a black tablecloth and a single candle in his honour.
The director of the Tate gallery, Nicholas Serota, said last night: "The vitality of [Freud's] nudes, the intensity of the still life paintings and the presence of his portraits of family and friends guarantee Lucian Freud a unique place in the pantheon of late 20th century art.
"His early paintings redefined British art and his later works stand comparison with the great figurative painters of any period."


...more in The Guardian - The Telegraph - The Independent - El Mundo - Libération - Le Figaro - ABC - The New York Times
Neruda's driver claims Chile poet killed by Pinochet as he was about to take refuge in Mexico
A longtime associate of Pablo Neruda has caused a media stir claiming that the Nobel Prize-winning Chilean poet was assassinated by the regime of former dictator Augusto Pinochet.
The Pablo Neruda Foundation still insists the poet died on September 23, 1973, from prostate cancer aggravated by emotional distress, after seeing Pinochet overthrow Neruda's friend Salvador Allende in a coup 12 days earlier.
But Manuel Araya, Neruda's secretary, personal assistant and driver, has alleged in recent interviews that the poet was assassinated by the new military regime, which feared he would go into exile as a high-profile dissident.
"Pinochet was a murderer. He killed Neruda so he wouldn't leave the country, because he was an intellectual that (Pinochet) did not want to have as an opponent," Araya, 65, told AFP on Wednesday.
Araya, who was at the poet's bedside until a few hours before his death at the age of 69, said that he had been hospitalized at the Santa Maria Clinic in Santiago "not because of worsening health, but for his security."
He said Neruda was "anxious and tense," that he believed the new regime was bent on eliminating him and was alarmed by an injection administered at night by a doctor.
Araya said Neruda had planned to fly to Mexico on September 24, but died the night before.

...more in Yahoo News - Straits Times - El Mundo - Libération
2010
The Peruvian writer Maria Vargas Llosa today won the 2010 Nobel prize for literature, crowning a career in which he helped spark the global boom in South American literature, launched a failed presidential bid and maintained a 30-year feud with the man he now joins as a Nobel laureate, Gabriel García Márquez.
Cited by the Swedish Academy for "his cartography of structures of power and his trenchant images of the individual's resistance, revolt and defeat", the 10m SEK (£1m) award is the culmination of a literary life that began in 1963 with the publication of his novel The Time of the Hero, and includes further books such as Conversation in the Cathedral (1969), Aunt Julia and the Scriptwriter (1977) and The Feast of the Goat (2000).
According to the Uruguayan publisher and journalist, Andreas Campomar, the award is "not before time".
..."First and foremost, he's a great man of letters," he continued. "He has a formidable style, but as with most Latin American writers, at the bottom of all his work, as well as power, and the abuse of power, is the question of cultural identity - what it means to be a European in this Amerindian continent."
...more in The Guardian - El Mundo - El País - Cuarto Poder - ABC - Al Jazeera - France 24 - Le Figaro - New York Times

"I feel a bit ashame to receive the Nobel Prize that was not awarded to Borges..."
And more in the web of Princenton University and of the author Mario Vargas LLosa
The poetic, intellectual drive of Marylin Monroe in quest for her unkown father
Marilyn Monroe's Writing To Be Released In Collection This Fall: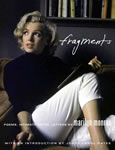 Musings about life, literature and other rarely seen writings by Marilyn Monroe will be published this fall. Farrar, Straus & Giroux announced Tuesday that "Fragments" would come out in October. Editor Courtney Hodell said the book would include poems, photographs, reflections on third husband Arthur Miller and other men in Monroe's life, and references to works by Samuel Beckett, James Joyce and numerous other authors.
"I think the book will show that she was a really thoughtful person with a real interior life," Hodell said. "She was a great reader and someone with real writing flair. There are fragments of poetry that are really quite beautiful, lines that stop you in your tracks."
The book features a long essay about Monroe's first husband, James Dougherty; notes about acting and the roles she was working on; lists of resolutions and a letter to acting coach Lee Strasberg. Monroe wrote on everything from spiral bound notebooks to stationery from the Waldorf Astoria.
The writings date from 1943, when Monroe was a teenager, to near the end of her life. Monroe was found dead in her Los Angeles home in 1962 at age 36, her death ruled a probable suicide, although theories of murder have proliferated.
...more in The Hufftington Post - The Guardian - El País - And in the website of Marylin Monroe
The man in whose room Borges wanted to spend his nights
Oscar Wilde new love letters discovered:
A collection of affectionate letters written by Oscar Wilde to a young male magazine editor have been revealed for the first time.
Penned in his own hand, the revealing letters appear to show the poet struggling with his homosexuality at a time when it was punishable by prison.
In one he muses: "This is all wrong isn't it."
In fact eight years after he wrote these letters Wilde began his famous two years in HMP Reading for "gross indecency" with the son of a lord.
The intriguing collection is now expected to fetch £10,000 or more when it goes to auction later this month.
During his time writing and editing for Society Magazines in London Wilde wrote a series of letters in 1887 to fellow editor Alsager Vian inviting him for 'cigars and Italian wine'

The letters are expected to fetch more than £10,000 at auction.
The main content relates to the business that would take place between an editor and his writers.
However, after the first letter Wilde continually invites Vian to visit him: "Will be at home tomorrow afternoon, so glad if you come down for tea.
"We must have an Evening together soon over our journalism article."
In the final letter Wilde goes to great lengths to encourage a meeting.
"Come and dine at Pagani's in Portland Street on Friday 7.30pm. No dress, just ourselves and a flask of Italian wine.
"Afterwards we will smoke cigarettes and Talk over the Journalistic article, could we go to your rooms, I am so far off, and clubs are difficult to Talk in."
"Till Thursday night. This is all wrong, isn't it. Truly yours, Oscar Wilde"
The small but revealing group of letters sent are to be sold by Fine Art Auctioneers Bamfords of Derby on the September 24.
...more in The Telegraph
David Guest wins the Chekhov Short Story Competition awarded by The Verb, at the BBC:
We're delighted to announce that the winner of our Chekhov Short Story competition 2010 is David Guest, for his story The Lottery Ticket. Well done to David.
Ian McMillan and Janice Galloway also enjoyed stories by Tricia Durdey, Joe Hakim and Adrian Benson - who all went for the title Difficult People - you can read all of them below.
A big thank you to everyone who sent in entries.
...Ian McMillan, presenter of The Verb, has been a poet, broadcaster, commentator and programme maker since 1981. He has explored language & communication with schoolchildren, students, teachers, education policy makers, politicians, public services & corporate businesses.
...read The Lottery Ticket, an award winning short story by David Guest, clicking on the title. And more information in The Verb at the BBC website
Franz Kafka and Max Brod safety deposit boxes being opened and inventory for the first time:
After months of legal wrangling, one of the 10 safe deposit boxes in which documents belonging to the writer Franz Kafka (1883-1924 ) and his close friend Max Brod (1884-1968 ) were hidden for 40 years was opened Monday in Tel Aviv.
A delegation of smartly dressed lawyers arrived at the entrance to the Kikar Hamedina branch of Discount Bank at 10 A.M., holding a court order stating the safe deposit box must be opened. The contents, however, cannot be publicly revealed as the owner of the deposit box, Eva Hoffe, petitioned the court for a ban on publication. Haaretz has requested that the court, through the law offices of Lieblich-Moser, lift the ban.
A year ago the Tel Aviv Family Court, where the case is being heard, accepted the newspaper's petition that the hearings be opened to the public; until then, they had been held behind closed doors.
The process of opening the safe deposit boxes will take a week. They are held in six different vaults in different banks in Tel Aviv, as well as four others vaults in a bank in the Swiss city of Zurich. Witnesses who had been inside the bank at Kikar Hamedina when the team of lawyers arrived said Eva Hoffe burst into the building in an attempt to prevent the safe from being opened, shouting "It's mine, it's mine!" The boxes are being opened in the presence of a battery of lawyers appointed by the court: the executors of the estates of Max Brod and his secretary and heir, Esther Hoffe; a representative of Hoffe's daughter, Eva; and a representative of the custodian general.
The team of lawyers will draw up an inventory of the documents they find in the boxes and present it to the Tel Aviv court. Judge Talia Pardo Kupelman will then determine the documents' status - whether they are the private property of the Hoffe sisters, who can then do with them whatever they want, or whether they constitute a literary treasure that must be transferred to a public archive.
...Hoffe and her sister inherited the safety deposit boxes from their mother, Esther Hoffe - Max Brod's longtime secretary and friend. Esther Hoffe died about three years ago; since then an emotional legal battle ensued over the Jewish National and University Library's demand that Hoffe hand over the manuscripts. At the same time, the German Literature Archives in Marbach, Germany is also interested in obtaining the documents and has been negotiating with Hoffe to buy them. The opening of the vaults was facilitated by the executors of Esther Hoffe's estate, Shmuel Cassouto, Dan Novhari, Rami Hadar and Dan Zimmerman, who were responsible for handling the technical and bureaucratic difficulties involved in carrying out the court order.
Dr. Aviad Stollman of the [Jerusalem] national library told Haaretz: "We are happy to hear that the process of revealing the contents of the vaults in which the manuscripts were hidden for decades has begun. We were sorry to learn that a request was submitted to prevent the contents of the vault from being revealed. It is a shame that Ms. Hoffe is not prepared to let the public be party to these important literary treasures, and that she is trying to thwart the clarification of the truth."
...more in Haaretz - El Mundo - El País - Libération
The finest Portuguese writer of his generation, José Saramago, has died today 18 June 2010, age 87: The Portuguese novelist José Saramago, who explored Portugal's troubled political identity in a series of novels published over the last four decades and won the Nobel prize for literature in 1998, died today at the age of 87.
An outspoken atheist and communist, he challenged the orthodoxies of post-dictatorship Portuguese life with novels such as Baltasar and Blimunda, The Year of the Death of Ricardo Reis and All the Names, but reached his widest audience with the 2008 film of his 1995 novel, Blindness, directed by Fernando Meirelles. He spent the last years of his life in Lanzarote after the Portuguese government had vetoed the nomination of his novel The Gospel According to Jesus Christ for an EU literary prize in 1992.
His translator Margaret Jull Costa hailed his "wonderful imagination" and his focus on the "dignity of the ordinary man".
"He was the greatest contemporary Portuguese writer," she said, "a complete original. It's been an enormous privilege to have translated his work."
Born in 1922, he worked as a car mechanic and a journalist before devoting himself to fiction in his 50s. His breakthrough came in 1982 with his fourth novel, Baltasar and Blimunda, a story of the love of a maimed soldier for a young clairvoyant in 18th-century Lisbon. Giovanni Pontiero's 1988 English translation brought his work to a international prominence.
His reputation grew through the 1980s and 90s as he published a series of important and fantastical novels, written in a flowing mellifluous prose which follows the rhythm of speech. The Year of the Death of Ricardo Reis, first published in 1984, is widely acknowledged to be his masterpiece – an account of the return to Lisbon of an imaginary character invented by the Portuguese writer Fernando Pessoa after the death of his creator. The Stone Raft, first published in 1986, imagines the Iberian peninsula cut off from Europe and adrift on the Atlantic, while All the Names (1997) turns a registry office clerk into a hero as he sets off in pursuit of an unknown woman.
Praised by the Swedish Academy for his "parables sustained by imagination, compassion and irony", the award of the Nobel prize in 1998 took his fame to a new level.
Saramago's editor at Harvill Secker, Rebecca Carter, found it "hard to take in the fact that someone as vibrant should have left us", and saluted his body of work as "one of the most important of the last century – radical, witty, humane, endlessly challenging and questioning".
...more in The Guardian - The Independent - Haaretz - BBC - Washington Post - New York Times
And in the following webs: Jose Saramago Foundation
You Will meet a Tall Dark Stranger:
Woody Allen's fourth London film is an elegant return to form
His new ensemble comedy starring Naomi Watts and Anthony Hopkins is his sprightliest for years.
Unveiled with a world premiere at Cannes last night, Woody Allen's You Will Meet A Tall Dark Stranger is the best of the four films the director has now made in London.
Even Allen's most dedicated fans have had their faith in the 74-year-old New Yorter's powers sorely tested by some of his late-period output, but the new ensemble comedy, starring Naomi Watts, Anthony Hopkins, Josh Brolin and Lucy Punch, is his most assured and sprightly work for many years.
It marks a return to filming the British capital for the director following Match Point, Scoop and Cassandra's Dream. He followed that trio with the Spanish-set comedy Vicky Cristina Barcelona and a brief return to New York for Whatever Works, but Allen seems finally to have discovered a feeling for London dialogue, locations and people – at least a certain fairly wealthy section of them – with this latest work.
Watts plays a woman working in an art gallery with a crush on her boss (Antonio Banderas) that threatens her marriage to a struggling author (Brolin). Meanwhile, her mother (Gemma Jones) becomes hooked on the advice of quack fortune teller Cristal Degiorgio (Pauline Collins), after being left by her wealthy father (Hopkins) in favour of a bimbo escort girl played, in a star-making turn, by young English actress, Punch.
Allen creates a dense network of well-drawn, beautifully acted characters whose individual actions have imperceptible yet adverse effects on each other and whose familiar neuroses are nicely teased by fate and fortune. The title refers to the familiar advice dished out by fortune tellers and also to, as Brolin's character puts it, "the tall dark stranger we all eventually meet", in the shape of the Grim Reaper.
...Shot by cinematographer Vilmos Zsigmond, London looks natural yet romantic, a city of cultural spaces, promising little windows, old book shops and wet west London streets.
Allen refuses to put his films in competition, but its premiere is nevertheless a highlight of this 63rd Cannes. Asked if he had altered his philosophical position on death, Allen replied: "My relationship with death remains the same: I'm strongly against it."
...more in The Guardian - International Film Festival of Cannes - Le Figaro
Pulitzer Prize success for online news websites:
Online news organisations have for the first time won coveted Pulitzer Prizes, the top awards in US journalism.
A journalist writing in a collaboration between online news service ProPublica and the New York Times magazine won an award for investigative reporting.
Meanwhile, Mark Fiore of the San Francisco Chronicle's website won the award for editorial cartooning.
Pulitzer Prizes are awarded annually by Colombia University to honour the best in US literature, journalism and music.
Sheri Fink of ProPublica, a non-profit investigative journalism service, picked up one of two investigative journalism awards for her report about the urgent life-and-death decisions made by doctors at a New Orleans hospital in the days after Hurricane Katrina.
The article was co-published by The New York Times magazine - and was the first such collaboration to be recognised by the Pulitzer Prize.
"We are starting to see more and more of these partnerships," Sig Gissler, administrator of the Pulitzer Prizes, told the BBC.
"I expect we are going to see more of it in the years ahead, as organisations face tougher financial situations."
The award for Mark Fiore marked the first time internet-only based work has been recognised by the Pulitzer Prize committee.
His animated cartoons showed "biting wit, extensive research and ability to distill complex issues", setting "a high standard for an emerging form of commentary", the Pulitzer Prize board said.
The Washington Post picked up the most awards, winning the categories of international reporting, feature writing, commentary and criticism.
...more in the BBC - Washington Post - San Francisco Chronicle - Al Jazeera - And the websites of Pulitzer Prizes and of Cartoon Artist Mark Fiore
Alexander McQueen, British fashion designer of international fame, found dead in London: Alexander McQueen on winning British designer of the year in 2003 One the UK's most influential fashion designers, Alexander McQueen, has been found dead at his London home. The death of Mr McQueen, 40, is not being treated as suspicious, the Metropolitan Police said. Reports that the four-time British designer of the year winner had taken his own life have not been confirmed. His family are said to be "devastated" at the "tragic news", according to a statement which added that they shared "a sense of shock and grief". In a message on his Twitter page on 3 February, Mr McQueen said his mother had passed away. Mr McQueen won the distinction of being named British designer of the year four times between 1996 and 2003 and was also awarded the CBE.
... The London-born designer started his career as an apprentice in Savile Row with Anderson and Sheppard before going on to work for Gieves and Hawkes. Alexandra Shulman, editor of British Vogue: "He wasn't afraid to push at the boundaries of fashion" In 1996, the man nicknamed "the hooligan of English fashion", with his close-cropped hair and Doc Martens, was named head designer at the Paris couture house of Givenchy. ...more in the BBC - France 24 - The Guardian - The Independent - El País - El Mundo - The Times - The Telegraph - Al Jazeera - Factual - And in Alexander McQueen website
Chopin's 200th anniversary around the world:

This year is the 200 anniversary of Frédéric Chopin birth, thus many cities are paying tribute to one of the most well known composers of romantic music in the world with hundreds of events organized throughout 2010. Celebrations start in his native Poland January 7, but concerts, exhibits and competitions will also take place this year in France, Austria, England and China among many other countries. The official opening of the Chopin celebrations in Poland start on Thursday, January 7 with a concert at the Warsaw Philharmonic by Chinese pianist Lang Lang. The international appeal of the pianist and composer echoes his personal life, as he was born in a small Polish village on March 1, 1810 to a father with French origins; he lived in Warsaw as well as Vienna and Paris. Chopin the European will be feted in March in Paris with a series of 15 recitals organized by Cité de la musique in the French capital and the Fryderyk Chopin Institute in Warsaw, with international pianists performing Chopin's complete works in their original form. Acclaimed performers such as Pierre Goy and Nelson Goerner will take part. The Austrian capital is organizing an exhibition dedicated to the time the composer spent in Vienna in 1829 and 1830-31 at the Vienna Haus der Musik from March 30 to April 30. The exhibit includes documents, photographs, posters and letters, and will also present live concerts by students of the Vienna Conservatory and the Academy of Music in Kraków, Poland. London's International Piano Series, an important platform for international solo piano recitals, highlights Chopin's oeuvre this season, with various Chopin concerts, a Chopin Forum, and six pre-concert talks focusing on Chopin's musical innovations, taking place between January 19 and June 8 in London's Southbank's Centre. Talented pianists will be able to register in the 16th International Fryderyk Chopin Piano Competition taking place in Warsaw between October 2 and 23. The competition's winner will perform in Beijing in December to close the year's celebrations in a series of concerts that will include live performances by Jean Neuberger, Stanislav Bunin and Garrick Ohlsson at the National Centre for the Performing Arts in Beijing.
More information can be found on http://chopin2010.pl , the official website available in Polish, English, French to this day and soon in Japanese and Chinese. ...more in The Independent - Le Figaro - The Times - and in the web of Daniel Barenboim

Read also 'Chopin's true sound can be heard at last after discovery of his piano in the UK'
2009
The Bard or not the Bard? That is the question:Experts all but certain portrait of Shakespeare unveiled Monday [9th March] is genuine. The Bard, or not the Bard? That is the question posed by Monday's unveiling of a centuries-old portrait of a dark-eyed, handsome man in Elizabethan finery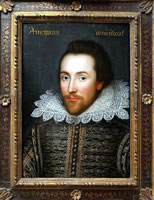 Experts say it is the only portrait of William Shakespeare painted during his lifetime — in effect, the sole source of our knowledge of what the great man looked like. But they can't be certain. In the shifting sands of Shakespeare scholarship, where even the authorship of the plays is sometimes disputed, nothing is written in stone. "We're 90 percent sure that it's Shakespeare," said Paul Edmondson, director of learning at the Shakespeare Learning Trust, which plans to exhibit the portrait in Stratford-on-Avon. "You'll never be entirely certain. There will always be voices of dissent." Incredibly, the portrait has been in private hands for several centuries but the owners — the Cobbe family — had no idea the man in the painting was responsible for so many enduring masterpieces. All that changed three years ago, Edmondson said, when one of the Cobbes (he won't say which one) walked into the National Portrait Gallery in London's Trafalgar Square to see a traveling exhibit called "Searching for Shakespeare." One of the first things he saw was a famous portrait of the Bard that usually hangs in the renowned Folger Shakespeare Library in Washington. "His jaw dropped," said Edmondson. "He realized he had one at home. And the one he had at home turned out to be the original."


...In separate discoveries that are solving other Shakespeare-related mysteries, Museum of London archaeologists said they had uncovered the foundations of the long-buried theater where Shakespeare wrote and performed as an actor. Museum officials said the rudimentary playhouse, simply called The Theatre, was built in 1576 by actor and theater promoter James Burbage. The site, where Shakespeare performed from 1594 to 1597, now houses an abandoned warehouse. Experts believe "Romeo and Juliet" was performed there. The playhouse remains were found on the site of an unused warehouse in Hackney on the eastern outskirts of London. Scholars say the theater there was dismantled and moved to the site of the more famous Globe Theater after a dispute between Burbage and the landlord in 1597. ...more in MSNBC - The Times - The Guardian - The Independent - Le Figaro - The Telegraph - BBC
Note on the inscription 'Principum amicitias!' : it is an excerpt from Horace, Ode 2.1.4, which is addressed to Asinius Pollio:
MOTVM ex Metello consule ciuicum
bellique causas et uitia et modos
Iudumque Fortunae grauisque
principum amicitias et arma
nondum expiatis uncta cruoribus,
periculosae plenum opus aleae,
tractas et incedis per ignis
suppositos cineri doloso.

"Beware the friendship of princes" is more a translation of the whole passage than those two words.
Mystery relic found during London excavation is linked to Shakespeare:
16th-century pottery found with face resembling the Bard. The bearded Tudor face, framed by long hair and a ruff, certainly looks familiar. As the Shakespeare Birthplace Trust prepares today to unveil what it says is a portrait of the Bard painted during his lifetime, archaeologists may have beaten them to it. A team from the Museum of London archeology service (Molas) working on the site where Shakespeare learned his trade has discovered a piece of 16th-century pottery that features a face resembling that of the great man. It was found during excavation work in Shoreditch, east London, at the site of what used to be The Theatre, lost for more than 400 years and where Shakespeare performed as an actor, as well as staging his earliest plays. Archaeologists unearthed the Tudor structure last summer while working at the site – which, by coincidence, is to be turned into a new theatre. There is no proof that the face on the fragment of Beauvais pottery is that of the Bard's, but insiders are excited by the discovery. "We knew we would be somewhere near Shakespeare's theatre when we got this site for our new building, and that was thrilling enough," said Penny Tuerk, a director of the Tower Theatre Company. She added jokingly that the face could have been from an ale mug sold in The Theatre's souvenir shop - and that it could make another appearance one day when the new Tower theatre opens in 2012.

...more in The Guardian - The Times - The Independent - The Telegraph - BBC - France 24
Homoeroticism in Shakespeare's sonnets: Shakespeare's lyrical poetry has long been considered marginal to his plays - is it because he addressed his poems to a man? In the latest exclusive online essay from the London Review of Books, Stephen Orgel examines how scholars over the centuries have dealt with Shakespeare's erotic sonnets. In his own time, Shakespeare was much better known to the reading public as a poet than as a playwright. Venus and Adonis went through 10 editions before his death in 1616, and another six before 1640. His other long narrative poem, The Rape of Lucrece, was less popular, but it, too, circulated far more widely than any of the plays, appearing in six editions during his life, and in two more by 1640. The most popular of the plays were Richard III and Richard II, each of which went through five editions before 1616. Romeo and Juliet went through four; Hamlet appeared in three. For readers since the 18th century, the narrative poems have been at best marginal to the Shakespeare canon. The sonnets, on the other hand, which were the least known of his non-dramatic poems until the end of the 18th century, had by the 20th century become essential to the construction of the canonical Shakespeare. This transformation, to be sure, involved a good deal of revision, emendation, and especially elucidation, for which the 18th-century editor Edmond Malone, who did more to define what we mean by 'Shakespeare' than anyone since the editors of the First Folio, is chiefly responsible. Malone's versions of the most problematic of these poems vary significantly from the original texts, but they have essentially replaced them. Since the publication of the First Folio in 1623, the canonical Shakespeare has been Shakespeare the playwright; which makes one wonder how Shakespeare would appear to us had his poems been included in the Folio - had the Folio been a volume of Complete Works, rather than Complete Plays. We are always told that the model for the First Folio was the first folio of Ben Jonson's Works, published in 1616. But this is, in a crucial way, incorrect: Jonson's folio comprised not only plays but poems, masques, entertainments and a good deal of prose commentary. Indeed, it was his epigrams that Jonson designated "the ripest of my studies", and he endured a certain amount of scorn for presuming to include the plays at all, for claiming the status of Works for scripts from the popular theatre. The Shakespeare Folio is evidence enough that by 1623 Jonson had made his point, and in that sense Jonson's Works were indeed an enabling precedent. Still, Jonson is for literary history as much a poet as a playwright, and his involvement in the world of aristocratic patronage and connoisseurship, amply revealed in his poems and masques, is an essential element in our sense of his career. Had Shakespeare's poems been, from the outset, part of the canon, we might at the very least take seriously his involvement in that same social world of patronage, erudite readers and aristocratic admirers. The dedications to his two long narrative poems, and the care with which they were prepared for and seen through the press, make clear that his ambitions extended beyond the stage.
Why weren't they included in the First Folio? Probably for practical reasons. The volume was put together by the King's Men, the acting company of which Shakespeare had been a principal shareholder, playwright and performer, as a memorial to their most admired colleague. What they owned the rights to - and what chiefly concerned them - was the plays. Since the narrative poems were still selling well in 1623, to have acquired the rights to reprint them would have been difficult, if not impossible. As for the sonnets, who knows? The quarto volume published in 1609 was the only edition in Shakespeare's lifetime, and it seems to have generated little interest: so little that a second edition, published in 1640, was able to imply that the poems had never been printed before. Perhaps the sonnets were simply not considered worth including. The editorial history of Shakespeare's poems is an index to how complex and conflicted our sense of Shakespeare the poet has been. The first quartos of Venus and Adonis (1593) and The Rape of Lucrece (1594) were well printed, elegant little books. They addressed an audience of readers who knew the classics, both Latin and English; they recalled, in both their physical presentation and versification, recent editions of Ovid, Spenser and Sidney. Both poems include fulsome dedications to the Earl of Southampton, a glamorous young aristocrat (he was 19 when Venus and Adonis appeared) who was also the ward of William Cecil, Lord Burghley. This is the way ambitious Elizabethan poets got on in the world: they found a generous aristocratic patron, whose taste, praised in a lavish dedication, in turn constituted a marketable endorsement. That this worked for Shakespeare, at least initially, is indicated by the fact that the Lucrece dedication is significantly warmer than the dedication for Venus and Adonis; conversely, the fact that there are no further dedications to Southampton implies that it ultimately failed to pay off. Southampton was liberally endowed with taste and charm, but when at the age of 21 he came into his inheritance, it turned out to consist of debts: artistic patronage does not live by taste alone. Venus and Adonis was witty, inventive and stylish; it was also daring, erotically explicit, even amoral. Though it seems to us sexually more comic than pornographic, its immense popularity was cited frequently in Shakespeare's own time as an index of the decline of morals among the young, or the literate classes, or - extraordinarily - the Roman Catholic church. Thomas Robinson, a lapsed friar, in a pamphlet published in 1622 called The Anatomy of the English Nunnery at Lisbon, described the comfortable life of a father confessor to the nuns there: "Then after supper it is usual for him to read a little of Venus and Adonis, the jests of George Peele, or some such scurrilous book: for there are few idle pamphlets printed in England which he hath not in the house."
The Rape of Lucrece is less obviously licentious - and certainly much less fun - but for all its moralising, there is a good deal here to feed the Renaissance erotic, and sadistic, imagination. Moreover, the elements that we find tiresome in the two poems - their formality, dilation, extensive description and digression; in short, the sheer undramatic quality of these narratives by our greatest dramatist - would have been a good part of what contemporary readers admired: these were the things that put Shakespeare, as a poet, in the league of Spenser and Marlowe. At the same time, their focus on the political implications of rape, on the one hand, and the sexual power of women, on the other, have a striking relevance to our own social and political history. Jonathan Crewe, in the recent, excellent Pelican Shakespeare Narrative Poems (1999), is particularly good on the sexual politics of these works, and the new and complex critical life they have taken on. The sonnets are, editorially and bibliographically, another matter entirely. They were, to begin with, not a book. At least some of them circulated initially in manuscript - the miscellaneous writer Francis Meres in 1598 praises Shakespeare's "sugared sonnets among his private friends", and while it is difficult to imagine 'sugared' applying to such poems as "They that have power to hurt and will do none" or "Th'expense of spirit in a waste of shame", the adjective certainly describes many of the sonnets written to the beloved young man. There was nothing secretive about this mode of publication; manuscript circulation was a normal form of transmission for much lyric poetry in the period. Even Sidney's Astrophil and Stella, Marlowe's Hero and Leander and Donne's Songs and Sonnets, all of them monuments of Elizabethan verse, were initially conceived as coterie literature: the poet was writing for an audience he knew. Donne refused to allow his lyric poetry to be published in his lifetime because he would then have no control over who read it. The Shakespeare who wrote the 'sugared sonnets' is the Shakespeare of the social world implied by the dedications to Venus and Adonis and Lucrece. As for those tougher nuts, the obscure courtly allegory The Phoenix and the Turtle and the Spenserian lament A Lover's Complaint, they have seemed bafflingly unlike the Shakespeare of the plays, and it is only in the past few decades that A Lover's Complaint has been accepted as Shakespeare's at all; but if we look at them in the context of Shakespeare's other poetry, we will see that they are entirely consistent with its literary ideals and intellectual milieu.

...more in The Guardian
In the page Orbis Tertius, you can read most of the speeches pronounced the 24th August at Can Mossenya estate in the public inauguration of a memorial to the Poet Jorge Luis Borges.